Happy May from Blue Stone Dental! We hope all our patients are staying safe, healthy, and are able to enjoy the spring sun while social distancing. We opened our doors on May 1st so our team is ready to see you.
Please be aware that we are following CDC guidelines for the health of both our team and our patients. Your next appointment with us might look a little different but please know it's for everyone's safety. Before your next appointment please fill out the health history survey on our website and any other paperwork necessary before arriving at the office. When you arrive we ask you to call the office to let us know you are outside. We will meet you at your car to take your temperature and walk you either to the hygienist or doctor's treatment room. All patients should wear a facemask when you are not being treated. We are reserving special times for older patients when the office is less busy.
In addition to the use of facemasks, protective eyewear, and gloves we have also implemented the use of gowns and face shields. We have installed HEPA filtration throughout the office and also implemented direct HEPA filtration at the patient's mouth to remove all aerosols created during treatment.
Since life has been full of challenges and uncertainty lately, we recommend taking extra time to relax and destress yourself every day. Dr. Lauck loves listening to the quiet sounds of nature, like the birds and bugs in the morning sun. These slower times give us an opportunity to appreciate nature, the world around is full of incredible things!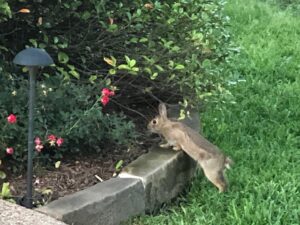 Another great way to stay positive is to acknowledge what you are grateful for in your life. For Dr. Lauck, it's her two sons. They are both in the Navy and currently training for their future. One is training in Corpus for a pilot position and the other is headed to Coronado to start BUD's training. They have jobs, paychecks, and insurance! She can't wait to see them again.
With all the extra time spent at home, there's more time to make delicious treats! There's nothing quite like enjoying a fabulous dessert to relieve some stress. Try Dr. Lauck's Chocolate Mousse recipe the next time you are in the kitchen!
Chocolate Mousse
What you will need:
1 box instant chocolate pudding (any size)
2-3 cups heavy whipping cream
Instructions:
1. Using a hand mixer, make the instant pudding according to the package directions, only substitute heavy cream for milk. You can also substitute 1/2 and 1/2 or a mix of milk to make less thick if desired.
2. Place it in the refrigerator for a few mins. and then mix it again until it's super thick.
You can store the chocolate mousse in a covered container in your refrigerator for up to 2 weeks! Enjoy!
We hope we see you in our office again soon. Stay healthy and safe, everyone!